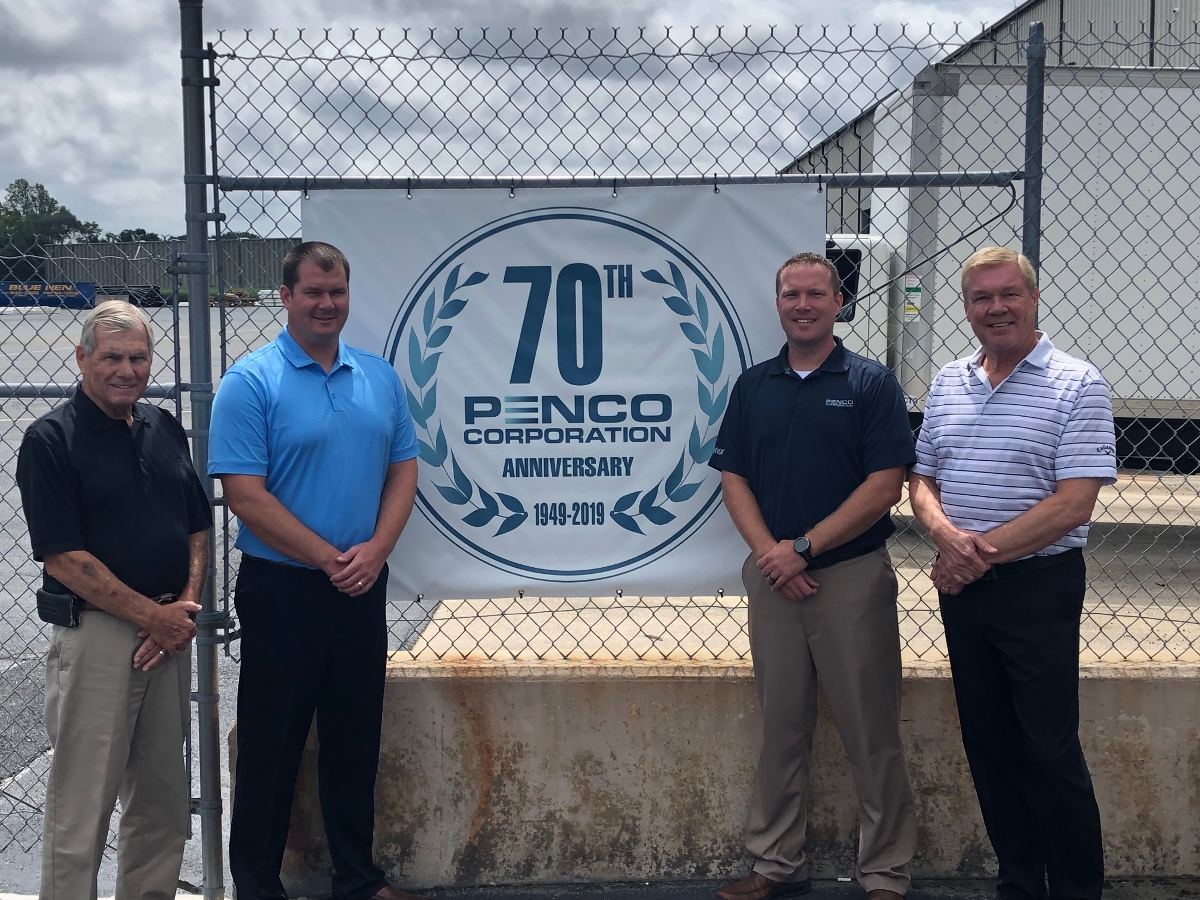 Delmarva's Preferred Distributor of Plumbing, Heating, and Air Conditioning products.
Penco Corporation began as Peninsula Plumbing Supply in 1949 as a partnership between Oscar Peterson (Pete) and George Sapna Sr in a small building on Water Street in Seaford, DE. After six years of operation, growth required them to move to a larger building and yard on Delaware Avenue in Seaford in 1956 which served as Headquarters for almost 30 years!
In May 1964, the small city of Salisbury, MD was experiencing tremendous growth so a decision was made to open the first branch location on Washington and Cross Streets. After a move to a larger leased space, Penco moved in 1997 to the current location on Snow Hill Road in Salisbury.
In 1965, negotiations had begun with the DuPont Company in Seaford to provide contract warehousing, trucking, and handling services. In April 1967, the first 123,000sf warehouse was completed. Over the next 15 years, warehouses were added to bring the total square footage to 582,000.
With contract warehousing such a large part of the overall company business, management felt Peninsula Plumbing Supply was not indicative of the total services provided. In June 1971, the name was officially changed to Penco Corporation.
After the 80s started with a tough economy, the "beach market" really became active and the Rehoboth Beach branch location was opened in May 1984. A second warehouse was soon added to help with the increased demand.
As growth continued, a new 43,000sf Headquarters was built in February 1985 on Stein Highway in Seaford. A 21,000sf addition was built in 1989 and a 40,000sf addition was built in 2006 to bring the total current square footage to 104,000. This currently serves as our Headquarters and Distribution Center.
To expand our service footprint even wider on the eastern shore of MD, the Easton, MD location was opened in October 1987.
The early 90s were another period of economic uncertainty but management saw an opportunity to expand to New Castle County and open a branch location in Newark, DE in April 1992. Just two years later, an 8,000sf addition was added in 1994.
In October 2000, to fill a void in Kent County in the middle of the state, the Camden, DE branch was opened on Rt 13. After immediate success, a 1,440sf addition was added to the current builidng and a few years later a 5,000sf addition was added.
In March 2001, DuPont was downsizing and notified us that they were cancelling the warehousing contract. As they downsized their space requirements, this allowed us to enter the commercial warehousing market with multiple customers and provide the warehouse space and handling services that we provide today.
In November 2007, Penco opened a 5,300sf Kohler Premier Luxury Showroom, Elegant Designs. The showroom serves contractors, builders, and homeowners and allows customers to see before they buy.
October 2010 brought about another milestone as 2nd generation owners, Kent Peterson and George Sapna, retired. 3rd generation and current owners, Jeff Peterson and Scott Sapna, took over all daily operations.
September 2017 marked the latest branch addition for Penco when a location was opened in Milford, DE.
Today, Penco operates 7 total wholesale locations on the Delmarva Peninsula, 1 luxury kitchen and bath showroom, and 582,000sf of commercial warehousing space.
Call today and speak to one of our many knowledgeable salespeople and experience the Penco difference!

Penco Service - Put it to work for you!